A puller is a specialized tool used to remove or extract objects such as gears, bearings, pulleys, and other components that are pressed onto a shaft or otherwise tightly fitted onto another part. Pullers typically use mechanical force, such as a threaded screw or hydraulic pressure, to create a pulling action and separate the object from the component it is attached to.
At Partsformachines.com we offer a variety of Sykes-Pickavant pullers and separators suited for all your workshop needs be it pulling out gears from a car or a van, bearings from a Tractor or Digger, or pulleys from a telehandler or an excavator.
Here is a quick reference guide on what to look for to select the right Puller for your construction or agricultural equipment.
Pulling Force
Pulling Force is generally measured in Ton, which refers to the actual effort needed to separate or pull, for example, a bearing or hub cap, or an alternator free wheel.
In general, a mechanical puller is suited for Cars, Vans, Jeeps and other light commercial vehicles. For bigger machines such as Tractors, Trucks, Buses, Excavators, Telehandlers and other plant and Agricultural machinery, we recommend use of a hydraulic operated puller. These pullers come with multiple accessories to ensure they can work with a variety of machines in a variety of settings.

Internal or external Connection
This represents the connection point with the part being pulled. For example, the inside of a bearing will require puller arms flaring outside, and for an external connection we will need the puller arms facing inwards. At Partsformachines.com we provide a comprehensive list of accessories
and connectors with each puller set that makes it versatile and suited to many applications and machines.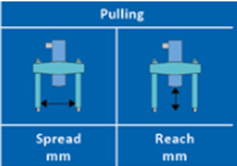 Spread
The maximum expansion of the Jaw. The higher the extension, the higher and wider the part it can grip.
Reach
This is a maximum depth the puller can go to, in order to connect to an object being pulled.
Bearings
Hub cap
Alternator Free Wheel
It is important to ensure each Puller is operated within its recommended operating parameters. If in doubt, please check the manufacturer manual or reach out to us to discuss the right Puller, Accessory or operating procedures.
Happy Pulling!