What you need to know?
Why you might consider one?
Tips on buying the right machine!
A pressure washer is a versatile machine that can support a variety of cleaning tasks in your house such as washing your car, cleaning your deck or patio, or removing dirt and grime from your driveway.
With Spring at our doorstep, it is time to start thinking about buying a pressure washer for all the cleaning needs around your household or business.
At partsformachines.com we sell a comprehensive range of high-quality pressure washers. Our easy-to-use machine selector, and product comparison tools, enable you to find the right machine for your needs and compare three machines on various features.
Here are some of the tips to look at when selecting a pressure washer.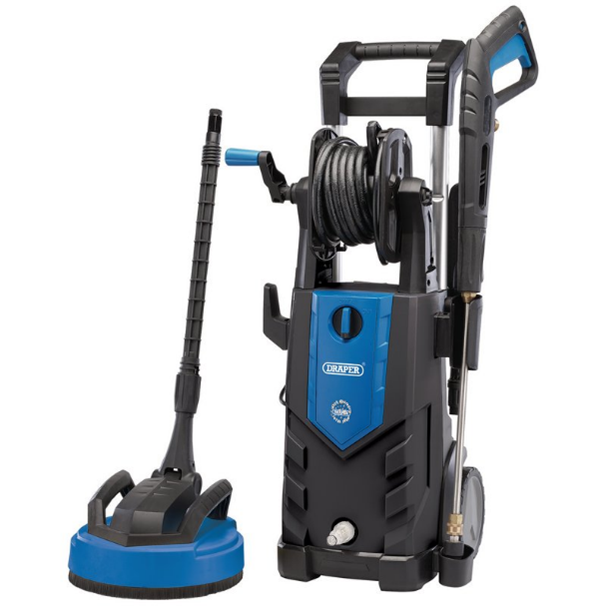 Power rating
Measured in KW or HP (horsepower) is a measure of the power of the motor. In general, the bigger the motor the higher the cleaning capacity of a pressure washer in terms of pressure and water flow.
A power rating between 1500-2500KW (2-4 HP) is suitable for most household jobs. In the entry-level range you may want to consider a Draper 98674 with a 1400KW motor, or moving up to an SIP CW2300 for a more robust machine with broader uses.
For industrial use you may want to consider power ranges upwards of 4500KW (6HP) for the best outcome. We recommend a SIP PP960/280 with a Honda petrol engine at the higher end, or a Sealey 6.5 HP pressure washer at the entry level for industrial applications.
Pressure
Pressure (measured in Bars or PSI) measures the force of water generated by the pressure washer. The higher the pressure, the more suited it is for a difficult cleaning job.
A Sealey 110 bar pressure washer is a good starter pressure washer suitable for basic home use. A Draper pressure washer with 195 bar pressure will be a solid product for almost all types of Patio and roof cleaning use.
For industrial applications we recommend a pressure output over 200 bar such as the SIP Tempest PPG 680/210
Flow rate
The higher the flow rate from the pressure washer the faster it cleans or the broader the surface it covers. Measured in Gallons per minute or Litres per minute, many homes use pressure washers that have a flow rate that ranges from 6-10 L/minute. Depending on budget, we recommend going for the highest possible flow for a faster clean. For industrial scale pressure washers, we suggest going for machines with flow rates upwards of 12L/minute.
Power source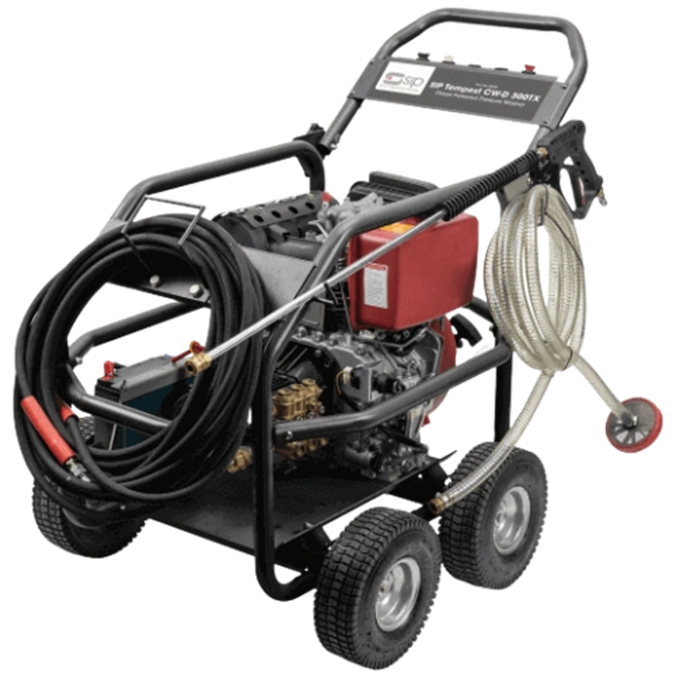 Consider the power source of your pressure washer.
Pressure washers can be powered by electricity, gasoline, or diesel. Electric pressure washers are generally more lightweight and easier to manoeuvre, making them suitable for small to medium-sized tasks. Petrol or diesel-powered pressure washers are more powerful and suitable for larger tasks, but may require more maintenance and might produce more noise and greater emissions.
Water temperature
While most home-use applications - such as cleaning patios or washing cars - use water at ambient temperature, certain applications - such as removing oil and grease from surfaces - need water to flow at a high temperature. We strongly recommend use of appropriate PPE while using these machines. The SIP range of hot pressure washers are ideal pieces of kit for a multitude of hot pressure washer application.
Accessories
Take into account the additional features and accessories offered by a particular pressure washer.

Look for features such as adjustable pressure settings, interchangeable nozzles, built-in detergent tanks and hose length. These features can greatly enhance the versatility and ease-of-use of a pressure washer.
There are many great options available, and these will help you to select the right pressure washer for your specific needs.

Please contact us if you're unsure on what to pick and we will help you though the selection process every step of the way. Happy cleaning!